Pr OBADIA
specializes in
and
trying whenever possible to repair defective heart valves rather than replacing them with artificial devices. New minimally
invasive techniques
using
Video-thoracoscopy
are making it more and more feasible perform this kind of operation using only relatively small incisions. It is always preferable to conserve the native valve if possible, to avoid the kinds of complication that arise with implants – in particular, the need for long-term anticoagulant treatment. The quality of the results encourages us to perform these operations as early as possible, in line with the
French SFC
and international
EACTS recommendations
.
1- Aortic surgery :
It is now possible to conserve valves implicated in aortic insufficiency, especially in case of ascending aorta aneurysm and of non-calcified or weakly calcified bicuspid aortic disease.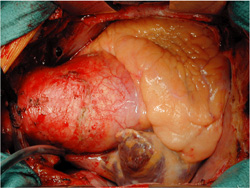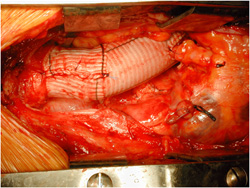 Intra-operative view before and after surgical treatment of an ascending aorta aneurysm with aortic insufficiency in a patient with Marfan syndrome.
2- Mitral valve repair and replacement :
With the development of
Video in Heart surgery
a small number of specialists have achieved spectacular developments.
The surgical technique
pioneered in Lyon is likely to become widespread, thanks to a dedicated instrument set and
teaching program
which we are developing in France and abroad under the auspices of the European Association for Cardio-Thoracic Surgery (EACTS). Valve surgery is thus being more and more often performed using small "minimally invasive" incisions that are less aggressive for the patient. These minimally invasive techniques are also suitable for treating simple congenital cardiopathies such as interatrial communication. Apart from the obvious esthetic advantage, pain, postoperative bleeding and the risks inherent in transfusion are all minmal, and so the time spent in hospital is shortened and patients can resume their working and leisure activities sooner.
In this girl who underwent mitral valve repair, the little scar under her breast disappears completely.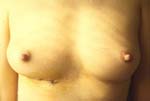 To date, more than 1,000 minimally invasive mitral repair surgeries have been carried out by our team.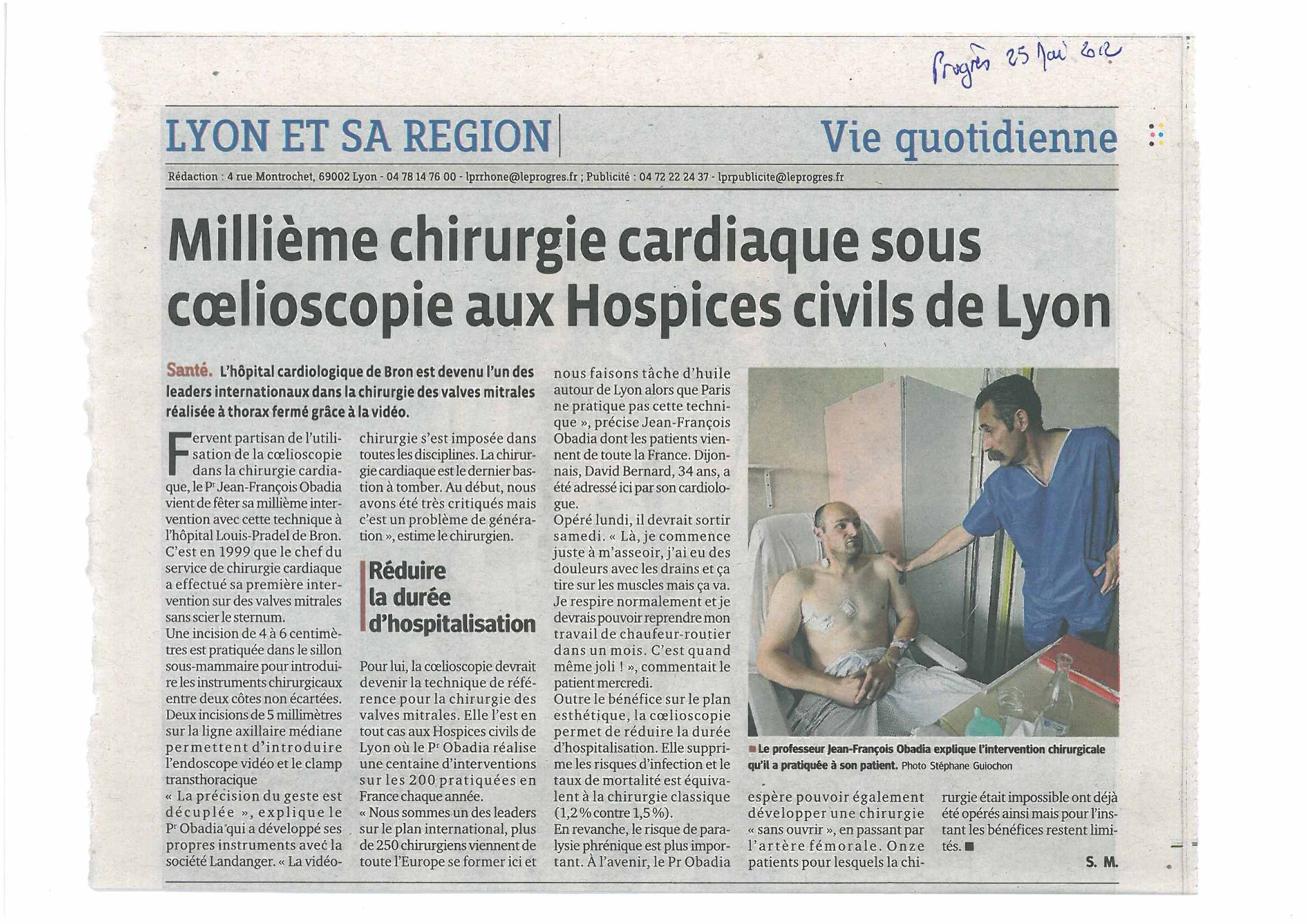 3- Percutaneous valves
a) Aortic valves (TAVI procedures)
A program of medical and surgical innovation in implanting percutaneous aortic prostheses now allows valve replacement without skin incision, under local anesthesia, in an awake patient. Several types of prosthesis are available.
- Edwards Sapiens prosthesis (deployed on a balloon that is inflated once the device is well positioned).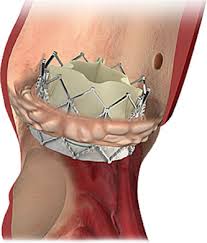 - CoreValve (deployed automatically thanks to the shape memory of the nitinol stent)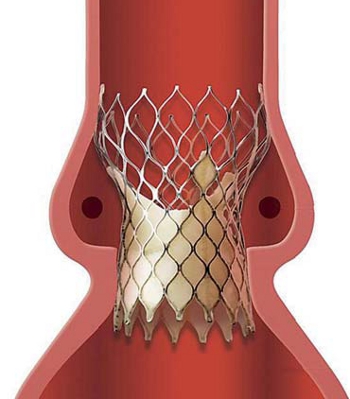 The valves are introduced via catheters by puncture of the femoral artery and are led along the vessels up to the aortic orifice, where they are deployed. At the present time, experience with these innovative techniques is too short and they are governed by the 2011 Health Authority (HAS) guidelines and reserved to patients with severe illness and especially to the elderly. More than 200 percutaneous prostheses have been implanted in Hospices Civils de Lyon centers, with a multidisciplinary approach involving several medical and surgical specialties.
b) Mitral valves
Percutaneous treatment of mitral valvulopathy is another hope for the future (Archives Editorial, 2013), although we are still at the very beginning of this approach, and many techniques are currently under development. The Hospices Civils de Lyon is piloting a national hospital clinical research project intended to determine indications for the most well developed of these promising techniques (Lyon PHRC Synopsis).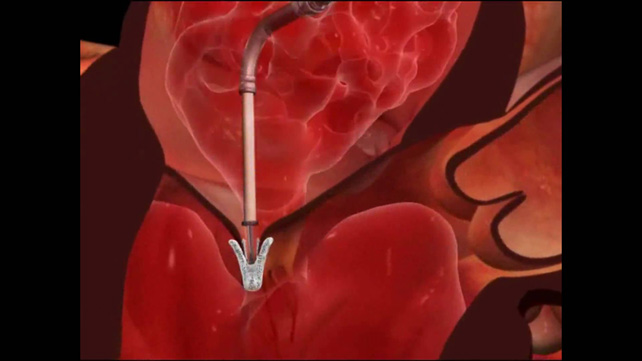 This is the MITRACLIP system, with more than 10,000 implantations worldwide. It consists in introducing a guide via the femoral and cava veins then through the interatrial septum, to place a clip holding together the mitral valve leaflets.